STEP-UP (Vverh)
www.vverh.su
Their mission — to help every child receive an education and develop as an individual, overcoming the damaging inheritance of their orphanage past.They have been working with children raised in orphanages for over 10 years. In 2010 Step Up was registered as an independent Russian organisation – prior to that it was called the Post-Institution Education Centre and functioned as a part of the international charity ROOF (the Russian Orphan Opportunity Fund).
HEAVENLY BRIDGE (НЕБЕСНЫЙ МОСТ) 
www.grigoriankoncert.ru
St Andrew's hosts a concert of classical music when professional musicians from all over Russia and abroad draw large audiences. The concerts are given in aid of the Chaplaincy's mission to the wider Moscow community; and to support the restoration programme of St Andrew's Church.
For more information, please contact +7 (926) 285-0877; 8 (495) 664-2169;
Культурный благотворительный Фонд «Небесный мост» некоммерческая благотворительная организация, основанная в 2009г. музыкантом и общественным деятелем Григоряном Киракосом Вартановичем.
Фонд организует и проводит концерты в Церквях и соборах Москвы и России. Основная деятельность – осуществление образовательной, культурной и социально-просветительской деятельности, направленной на повышение социальной активности общества, развитие образования, спорта, культуры и достижения других общественно-полезных целей, а также поддержки в сфере детского здоровья, помощи сиротам, детям-инвалидам, больницам и молодым талантливым музыкантам.
Справки по тел.:+7 (926) 285 08 77;  (495) 664 21 69
По вопросу проведения концертов: (495) 664-21-69
MOSCOW PROTESTANT CHAPLAINCY
MPC is a vibrant, international Christian church that brings people together from 40 countries to worship God, fellowship with one another in Christ's name, work in our community, and welcome the stranger. The Chaplaincy is a dynamic and diverse ecumenical Christian community that nurtures faith in Jesus Christ, seeks God's justice in the world, and welcomes all people. MPC meets at St. Andrews on Sunday at 3:00 pm.
MPC is a shared ministry of The United Methodist Church, the Evangelical Lutheran Church in America, the Reformed Church in America, the American Baptist Churches USA, and the Presbyterian Church (USA).
MPC also supports a number of important social programs. You can learn more about their social ministries on the program website, mpcss.org 
Other programs that share our space
ENGLISH SPEAKING ALCOHOLICS ANONYMOUS
Alcoholics Anonymous is a fellowship of men and women who share their experience, strength and hope with each other that they may solve their common problem and help others to recover from alcoholism. The only requirement for AA membership is a desire to stop drinking. There are no dues or fees for AA membership; we are self supporting through our own contributions. AA is not allied with any sect, denomination or politics, organization or institution; does not wish to engage in any controversy, neither endorses nor opposes any causes. Our primary purpose is to stay sober and to help other alcoholics achieve sobriety.
The AA Group at St Andrew's Church is English speaking and meets every evening in the basement of the church as follows:
Monday-Friday 19:30
Saturday 17:00
Sunday 18:00
For more information, please contact Steve J:+7-985-211-7140 or Andy:+7-905-265-2118.
RUSSIAN SPEAKING ALCOHOLICS ANONYMOUS (New World)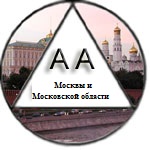 "New World" is a Russian language group of the global community Alcoholics Anonymous (AA).
It meets in St. Andrew's Anglican Church every Monday at 19:30-21:30 in room №5 of the lower level.
For more information please visit https://aamos.ru/index.php/timetable-today/group-list or contact Andrey: +7-905-516-04-30