Counting our blessings is an old fashioned and biblical approach to life which our grannies used as they saw life through very different lenses following the stringent times of a post-war world. It's something which many of us find difficult, but this year I think there might be something in this old tradition.
I enjoyed reading Archbishop J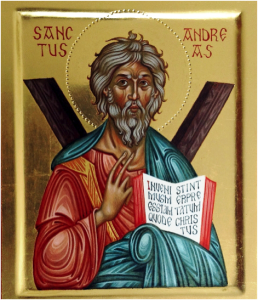 ustin's Christmas message, as he focuses on the central blessing reminding us that the origin of Christmas gifts lies in the Christian tradition that says God gave his son, Jesus, as a gift to bring us life; we reflect that generosity by giving gifts to each other.
This year, through the generosity of one of our friends, we have given to visitors to our church the icon of St Andrew. It has a Christmas message and a calendar on the back. This small pocket token of offering God's blessing is a powerful gesture which many people have appreciated some, even surprised, to receive something for nothing.
Justin Welby says that 'no gift, however pricey, can truly reflect the gift God gave the world in sending Jesus to share our suffering on the cross, bear the weight of our wrongdoing and offer us the hope of life. However, our gifts can, in small ways, reflect and point to the self-giving love of God. But the most meaningful gifts are about expressing life, not luxury.' Our icon of St Andrew expresses the love felt by both East and West for the first disciple of Christ. It is a token remembering the love he had for his brothers and sisters which we share with our visitors. We count our blessings for the saints in our history which unite East and West in the love of Christ.
I was reminded of the preparation the Russian Orthodox church does as it celebrates the festival of St Nicholas (in the Western tradition we adopted him as Santa Claus) on 19 Dec. I decided, encouraged by a friend, to attend this feast. I had the great privilege of attending my first Eucharist in our local Russian Orthodox Church of the Renewal of the Resurrection of Christ in Jerusalem at the Ascension Gorge. It is just a few hundred yards from St Andrew's church. To our joy and astonishment we were invited to lunch afterwards with Fr Nikoli (the rector of this church) to celebrate both this feast and his name day. This church was one of the only 32 which remained open during the Soviet era. This was due to the powerful influence of the local parishioners who were artists. It reminds us to count our blessings for our brothers and sisters in Christ of our friends of other traditions here in Moscow who sustained the Faith in former difficult times.
We have seen a difficult situation develop in Russia in its relationship with the West in the recent political situation. We are only too aware of the consequences as we have said goodbye to some of our friends who have left us to return home. We count our blessings for their love, friendship and their continued support.
Christmas living abroad requires a good deal of planning. It includes making lists to prepare ourselves for a trip home to see family and friends.It involves writing Christmas cards and delivering them often by post in our own country or at least well in advance through a friend returning home. We count the days and our blessings as we prepare for the exodus from a kind of exile to return to our own little 'Bethlehem' with our family and friends. We count our blessings that we are able to go home.
That blessing for some of us, facing an uncertain future, is real even if only we could feel a little more seasonal joy. Having said that, most of us are very fortunate. Here at the parsonage, at least three or four times a week we have a knock on our door to find a complete stranger asking for food. They have no choice but to spend Christmas day probably alone. Our chaplaincy offers them God's blessing by responding to their immediate need with food bags and clothing to sustain them.
God's love this year has seen many changes to our life in the Chaplaincy and we count our blessings for the 14 year legacy of Father Simon, who brought our church and community into the twenty-first century and nurtured it until his retirement this year. His ministry among us has been of immense value to so many of us and we thank God for him.
This year, more recently, we have developed a deeper relationship between our chaplaincy and our friends in the Moscow Protestant Chaplaincy. Our mutual love of Christ has brought new opportunities for both organisations and we look forward to our inaugural sharing of friendship and ideas at our first exploratory joint council social in the New year. We count our blessings that we can share our journey together.
We also have many other friends and one is our relationship with the British Embassy. The continued support of the Embassy community is a huge blessing as they help the Chaplaincy in so may ways. It is a great privilege for St Andrew's to be connected to this wonderful community which gives us the stability on our journey here is Moscow.
We count our blessings being able to support our charities in our centre like Step Up, Heavenly Bridges and other 'behind the scenes' organisations. The work they do cannot be measured and demonstrates God's love in our midst. Most of all, through the blessings of God, we have each other and those gone before us like Slava whose memory we treasure in a wonderful gift of a music cabinet donated by members of our congregation.
May I wish you all a very Happy and Joyful Christmas and peaceful New Year.
May the Blessing of Christ shine in your hearts as we celebrate the birth of our Saviour.
Father Clive