July 26
Tricky Jacob finally learns what it feels like to be tricked himself in today's story. I hope you enjoy this week's lesson and I hope that no matter who you are, you'll know that you are always wanted in our group, in our church, and by God! He is such a loving protector and help for all of us.
(don't worry, the story starts after 30 seconds!)
---
August 2nd
Are you feeling hungry? The story today tells us about the miracle that Jesus performed to feed rather a lot of hungry people with leftovers too!
Watch the video and look out for the signs that tell us something about who Jesus was!
---
August 9th
This account follows straight on from last week's story. We find our more about who Jesus is and Peter finds himself in hot water – almost literally!!
---
August 16th
So far Jesus hasn't been that impressed with his disciples' record on the faith stakes but in today's account, he meets someone – not a Jew and not a man who shows extraordinary faith.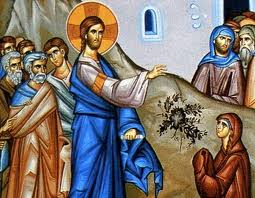 There is no video today to watch but you may like to look at this icon with your child when you've read the story. Look at the expression on the disciples' faces and their hands. What is Jesus holding and what is he doing with his right hand? What other questions can you ask about the icon and what other things do you notice?
Here is the link to the Sermons for Kids page which has other comments and activities:
https://sermons4kids.com/crumbs.html
There's some fun craft activities outlined on this page below with a focus on faith:
https://sermons4kids.com/never_give_up_group_activities.htm
---
August 23rd
What's in a name? Peter comes up trumps today in our story as he confesses that Jesus is the Messiah!
---
August 30th
Last week Peter said the right thing – this week he really flunks it! Read the story to find out how.
Jesus tries to help his disciples to understand what will happen to him and what following him will mean for them and for all who want to be Christians. No video this week but here's the link to the Sermon for Kid's page that has some input and activities https://sermons4kids.com/it_isnt_easy.htm
---